DR TOWER
The edifice is an 18 storied state of the art commercial building designed with green concept and is compliant with the technological demands of the present day. It has also been built with careful consideration keeping quality in mind. The large structure is supported by a 3 storied substation which is located outside of the building. It also has an internationally compliant fire system, a total parking space for 150 vehicles with secured and wide entry/exits and drive way. The building also hosts a data centre of the notable Prime Bank. It is rich in facilities from parking spaces, to multiple elevators, to chillers, central air conditioning, rain water harvesting, etc. DR Tower has an average daily influx of approximately 2,300 people on every working day of the week.
DR Tower clientele:
S/N
Floor
Client/ User
Occupied space(Sq.ft)
1
GF
CITY Bank NA
2643
2
GF
Prime Bank Ltd.
5246
3
1st
Prime Bank Ltd.
9416
4
2nd
Prime Bank Ltd.
9416
5
3rd
Flora Limited
14063
6
4th
IDLC Securities Ltd.
9454
IDLC Investment Ltd.
5000
7
5th
IDLC Finance Ltd.
14454
8
6th
IDLC Finance Ltd.
14454
9
7th
Delta Brac Housing
3605
IDLC Finance Ltd.
3404
10
8th
Delta Life Insurance Ltd.
12719
11
9th
Delta Life Insurance Ltd.
12719
12
10th
Delta Life Insurance Ltd.
14386
13
11th
Islami Insurance
13996
Bangladesh Ltd.
14
12th
Institute of Bankers
14101
Bangladesh
15
13th
International Leasing And Financial Services Ltd.
2000
3000
4500
16
14th
Crystal Insurance Co. Ltd.
13996
17
15th
AHL Multi-Purpose hall
14578
18
16th
AHL RESERVED for Prayer
9598
19
17th
AHL OFFICE & SIGMA OFFICE
14578
20
18th
ROOF TOP & GYM
9213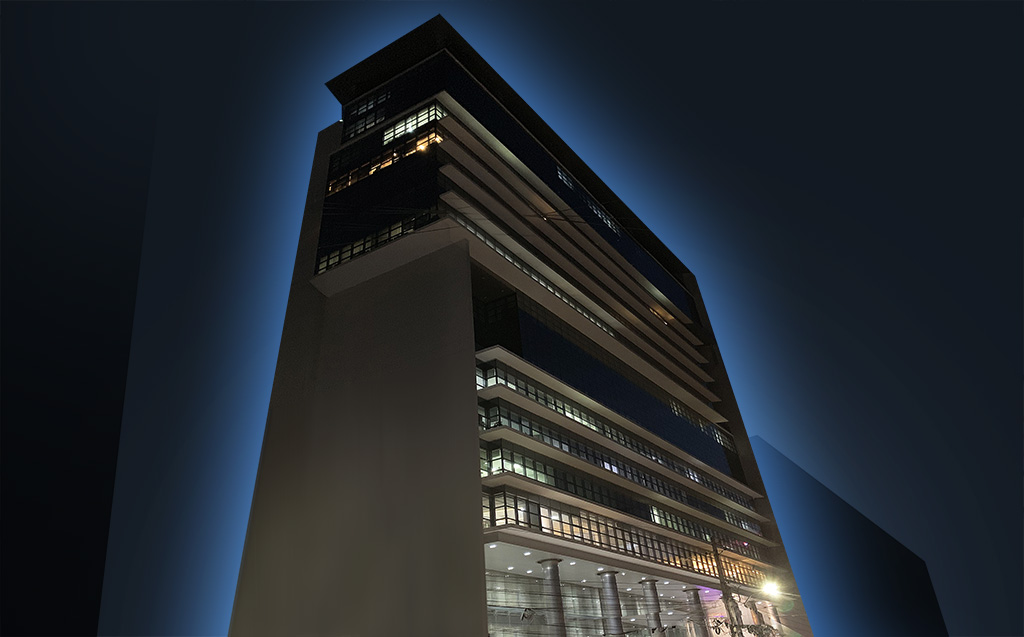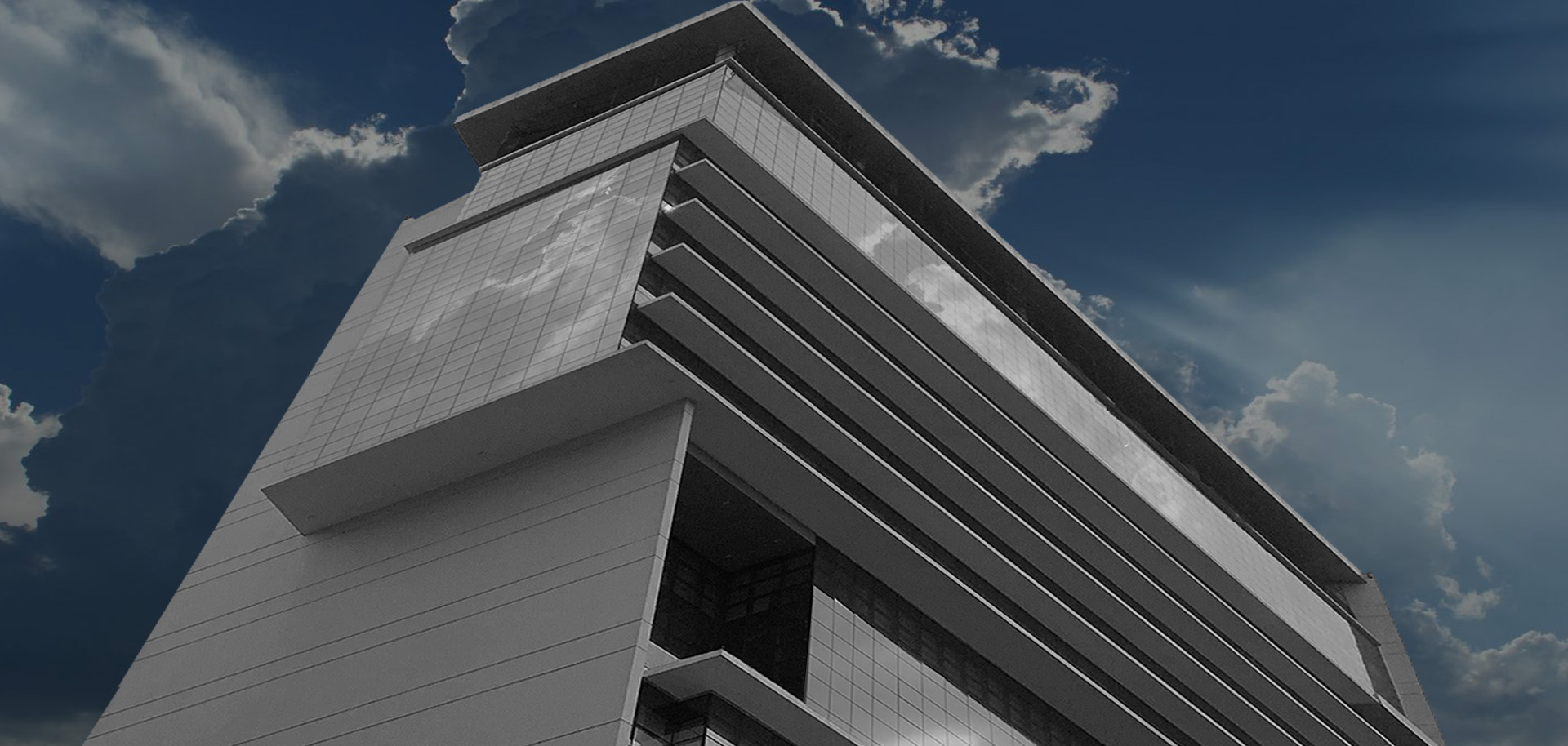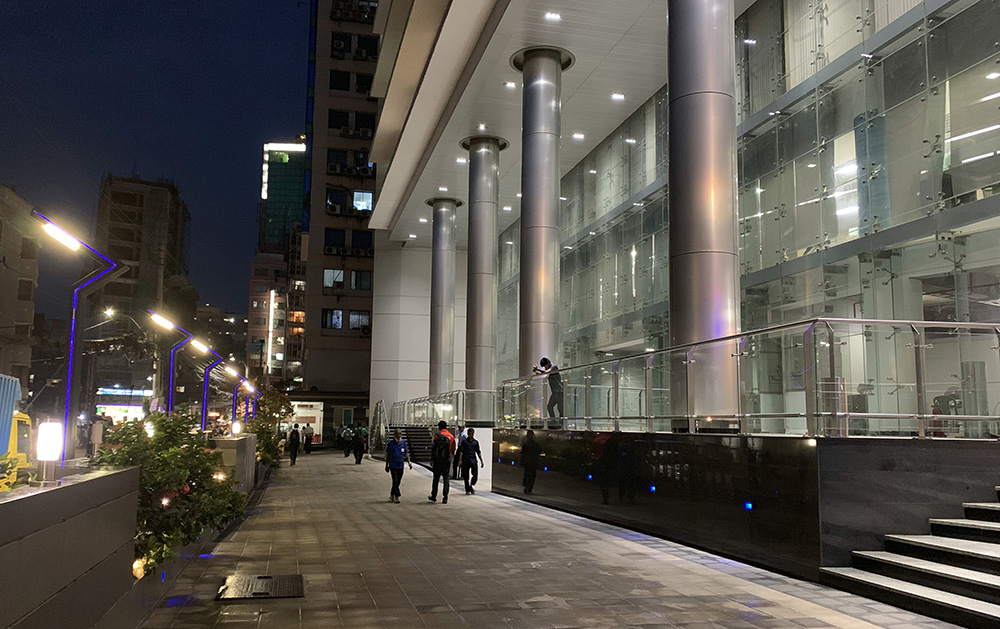 DR Tower features
The entrance of DR. Tower is a triple height (27 feet) entry leading to a grand lobby where the floors are made with imported granite stones and walls are built with lowheat emission glasses through spider system instead of concrete. Wide Front façade provides relief from usual congestion created from tight entry and exit.
The Elevations of the building expresses simple, straight forward interior spaces. The internal spaces have been designed to maximize daylight to reduce energy consumption. Provision of shading and a fully blocked west side reduces heat intake, resulting in reduction of air conditioning expenses.
The building is fully centrally air conditioned withthe combination of 1175 TON water cooler chillers, 441 TON air cooler chillersand a 75 TON specialized precisionchiller for data center. All the water chillers and Air cooler Chillers are from Clemaveneta, Italy(a sister concern of Mitusbishi Electric).
DR tower provides exclusive parking facilities for the users and tenants of the building. 30 feet wide specious drive way offers ultimate comfort when it comes to the main entrance of the building and it is directly linked with the basement car parking which is three tiers and accommodates150 vehicles.
DR Tower is enriched with fresh air supply system(inlet and outlet ventilation) which is consisted with 12 KW (4 motors) and 3 KW(12 motors) "Z" fan for its three tier basements. All the mentioned equipmentis imported from SystemAir, Malaysiato ensure the normal breathing and comfort level for its clients and valuable guests.
A separate three storied utility building which holds2850 KVA Electric substations from Electromecanica, Italy ,210 AMP HT AVR from Siemens, USA,630 AMP HT Switch Gear from ABB, Italy, 2500 AMP LT switch Gear from ABB, Italy and 3000 KVA generators from Green power Limited, Italy for uninterrupted power supply in DR. Tower main building.
A compliant fire systemimported from KSB,Germany which includes 95 KW Main pump, 5HP Jockey Pump, 45 HP diesel pump and fire roll system from Malaysia. Besides those we installedsprinklers and Fire alarm system from Honeywell,India throughout the building in accordance with the rules and regulations of Bangladesh Fire service & Civil Defense authority. All equipment are centrally controlled from BEMS room and auto emergency Lighting system also installed to get the emergency exit way during fire hazard.
The building also has anAuto Bolstering water pressure control systemfrom KSB, Germany which is consisted with 2 pressure pumps of 65.5 KW that supply water to whole building dividing the building in 4 zones. This water pressure controlling system doesn't require overhead water reservoir which ensures equal water pressure from top to bottomfloors by supplying 23 liters of water per second.
DR Tower is equipped with 4 large passenger elevatorsfrom Thyssenkrupp, Germany, assembled in Korea that are serving the average influx of 2300 people on every working day. These lifts are built for heavy duty and each of those can carry 22 persons on average weight of 1600 KG in per lifting. The speed of the lifts is 15 meter per second.
DR Tower has an international standard Bus Bar Trunking System made up with 5000 Amp, 2500 Amp, 2000 Amp, 1600 Amp rating. We used Electrical Circuit Breaker from ABB Germany,Switches,Sockets and Double metering system from Schneider, French; Cables from companies like Paradise cables Ltd. and BRB to ensure better functionality of the building.
There is a Building Energy Management system (BEMS) in DR Tower which consists of a central controlling station located in ground floor with the Latestsurveillance equipment (CC Camera,DVR, 10 KVA Online UPS),Sound system, Fire detection systemto ensure the safety and security of the building 24×7.
DR tower has the facility to serve its tenants of pure drinking water of 1000000 liters per day by its own Water treatment plant. This plant is made up with 55 KW submersible pumpfrom KSB, Germany that lifts water from 1400 feet deep, Raw tank with a capacity of 140000 liters and Reverse osmosis treatment plant from SIGMA.
Thunder protection system with surge protection device (Back bone and spike Aero head)make the DR tower safe from lightning during storm and heavy rain fall.
To get the smooth conversation through mobile DR tower installed BTS and IBS system inside the building for its tenants. A digital telephone system (AWG) linked with optical fiber helps the tenants to get the uninterruptable internet and telephonic service from the service providers.
DR tower management setup an international standard coffee shop in ground floor to entertain the guests of the building and surrounding neighbors.